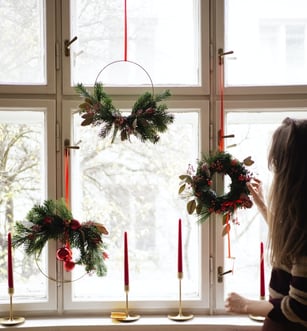 Whether you are a pre-season holiday decorator or a last-minute one, it is never too late to add a little festive flair to your home.
One of the simplest ways to decorate your home this season is with your window treatments.
After all, do you think Santa would approve of bare windows? We didn't think so either.
Once you have finished decorating the tree and hanging the stockings, consider how your windows can add a dash of holiday cheer to your home.
5 Santa-Approved Window Treatment Ideas
The following are five holiday-inspired, Santa-approved window treatments you should try in your home this year.
#1: Ribbon Hung Wreaths
Wreaths are a great addition to your holiday home decor. Consider handing one from a festive ribbon above your kitchen or front yard facing windows. It is a classic look that has yet to fade over time.
#2: Garland & Ribbon Dressings
Home design trends have been incorporating more greenery and designing floorplans to connect indoors and outdoors. Frame your windows with garland and perhaps tie a few bows around the greenery.
#3: Window Ornaments
Ornaments don't only have to be hung on the tree. You can hang them from the ceiling to show through the windows and become the focal point of any room in your home.
#4: Frost on Your Windows
It may not snow in Florida, but you can purchase spray snow that can safely be applied to your windows and create a cheery winter scene inside and outside of your home.
#5: Festive Window Coverings
You may even want to swap out your window coverings with seasonal colors or festively decorated selections. Depending on the color scheme in your home, a deep red, hunter green, or silvery gray may be the perfect complementary color choices for your holiday curtains or drapes.
Will Your Window Treatments Make Santa's Nice List?
There are several ways you can decorate your home for the holidays, including your window treatments. How will you decorate yours this holiday season?
Your windows aren't just for decorating though, they are a part of your home's envelope and help improve your home's ventilation. Keep yours in great condition by clicking the button below to follow a few of our top window care tips.