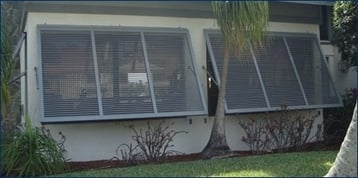 When hurricane season rolls around, how do you prepare your home? With windows, doors, and roofs being vulnerable parts of your home's envelope, windborne debris can break through in the midst of a hurricane or severe weather resulting in several damages and headaches.
With that being said, the question stems whether shutters are the only reliable hurricane window protection available. The short answer is no; hurricane, impact glass windows are another hassle-free way to hurricane window protection this season.
Preventing hurricane damage in Florida can seem nearly impossible as the season's forecasts unfold. This is felt even more so by those who live on the coast or in a high velocity hurricane zone.
While there are several measures homeowners take for the best hurricane window protection, such as duct tape and plywood window coverings. Impact glass and hurricane shutters are much more reliable, efficient and hassle-free approaches to hurricane window protection.
Impact Glass Hurricane Window Protection
You can toss out the tape, which frankly doesn't actually reinforce your windows strength against windborne debris. However, impact glass does. Impact glass has a similar concept to the duct tape fallacy, as it's reinforced glass that has a sacrificial glass layer which may break, however, the window still stands. This way, there is no mess or additional vulnerability and damage to your home or its envelope.
This is a great option for snowbirds or seasonal travelers who aren't home during hurricane season because at least you'll know that your glass windows and doors are protected for hurricane season so you can keep calm when the storms start coming.
Impact glass is not only a great option for hurricane window protection, but it also works to help you improve your energy efficiency and reduce your energy bills.
Hurricane Shutters & Hurricane Window Protection
You can also toss out the heavy, bulky plywood and rusty nails. Whether you want additional hurricane window protection, enjoy the variety of aesthetics, or aren't ready to update your installations, hurricane shutters are another great option to keep your home's envelope protected during severe weather.
Discover Your Hurricane Window Protection Options
If you live in Florida, then you know the drill when you hear the latest meteorologist announcing a tropical storm developing into an impending hurricane.
Boarding up the windows with plywood is ancient history, especially with advances in hurricane shutters and windows and doors.
Eastern Architectural Systems uses only the highest quality glass, from suppliers like Cardinal Glass, to ensure quality and to maximize strength. All our products meet Florida's toughest building codes and have product approvals from the most well-known agencies.
Click here to learn more about our hurricane shutters and how they can help you. Also, click the button below to discover more of our impact glass window and door solutions to keep your home energy efficient and safe this hurricane season.