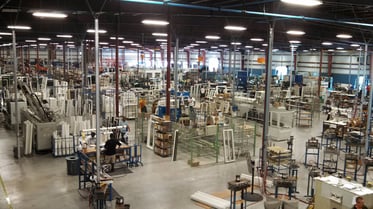 To remain competitive in a rapidly changing technology climate and meet the needs of their customers, manufacturers must adopt newer, more efficient processes, and partner with companies offering top-of-the-line products.
EAS provides dealers with a complete line of custom-made windows and doors: aluminum and vinyl, impact and insulated impact. Being in the industry for so many years, we understand the importance of making decisions that holistically benefit both EAS and our customers.
In order to further enhance and improve our products and service, we have officially transitioned all of our glass to Cardinal Glass Industries out of Ocala.
They produce all laminated and insulating units for us with a 5-9 day lead time, depending on the product, helping us exceed the expectations of today's discerning buyer.

Cardinal designs and fabricates the most advanced residential glass products in the industry starting with R&D that provide the basis for new advances in glazing fenestration.
Cardinal provides a turnkey solution to window manufacturers: whether it starts with insulating glass, coated, laminated, tempered or just plain float glass, it is all designed to provide the latest in applied glass science.
All EAS products are tested for strength and integrity and built with style in mind to exceed the requirements and challenges of today's discerning buyer.
We are the only manufacturer in Florida that produces Earthwise vinyl windows, the only vinyl impact window backed by the Good Housekeeping Seal and are Made in the USA Certified ®.
Find out what this means to you and don't forget to check out our Bertha line of windows and doors which are HVHZ certified.
Contact your local EAS rep today for further details! Click the button below to learn more about the EAS complete line of windows and doors.