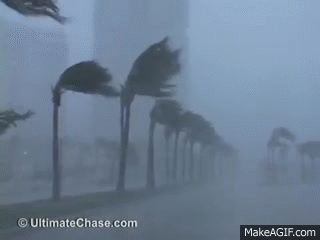 The Florida coasts are no stranger to hurricanes! In fact, since the 1940's, this is the first time that for four years in a row, the Sunshine State will have been hit by a hurricane. Whether Hurricane Dorian takes a turn away from Florida or not, it's better to be on the prepared side of any storm than piece together the chaos of its aftermath.
With that in mind, Governor DeSantis is taking all precautions and declaring a state of emergency. Based on the weather maps and reporting, "Hurricane Dorian is anticipated to be the strongest hurricane to hit the east coast in nearly thirty years," CNN reported.
As of Thursday evening, Dorian was moving northwest of the Atlantic and is currently a Category 2 storm with 105 mph sustained winds. It's expected to make landfall with 130 mph sustained winds as a Category 4 Monday, according to the latest from CNN.
"Life-threatening storm surge and hurricane force winds increasing as it continues its path toward the northwestern coast of bahamas
Increased likelihood of prolonged period of hazardous weather conditions lasting for a couple days in Florida early next week
Still too early to determine the exact storm surge measurements, but the risk of life-threatening storm surge has increased
Heavy rains are expected to cover the Bahamas and Florida this weekend and into the middle of next week."
Aside from putting up your shutters and stocking the pantry and fuel tanks, there are other precautions to consider prior to a hurricane blowing through town.
The following are a few tips on financially preparing for Hurricane Dorian by CNBC:
Review and evaluate your homeowners and renters insurance to better understand your coverage
Take photos and properly store important documents and financial records
Take time and date stamped photos of your home prior to the hurricane for evidentiary support in the event your home crosses Dorian's path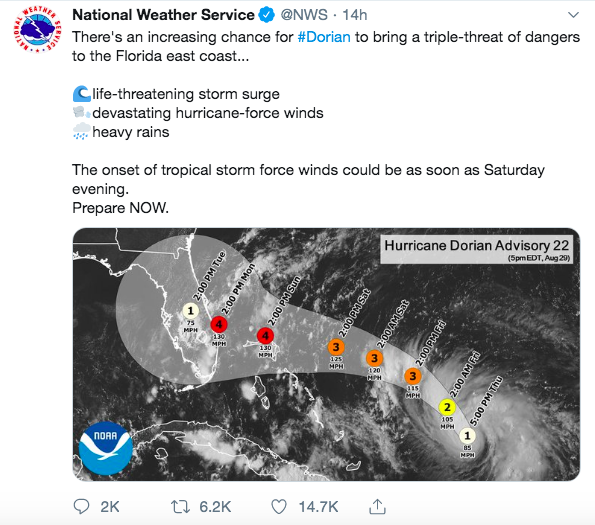 For more bite size, Hurricane Dorian updates like the above, follow The National Weather Service, @NWS.
You can also click on any of the following resources for proactive approaches to hurricane season.
About Hurricane Damage
Preparing Your Home