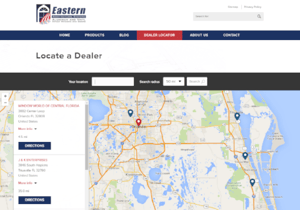 Where would you be without your maps app? Finding exactly what you're looking for can be challenging. Here's how to find the closest Eastern Architectural Systems (EAS) St. Pete window dealers near you.
Whether it's Google Maps or Maps, many people rely on navigation apps to search establishments near them and their accompanying directions. The ability to shop directly from these apps on your phone has also become more prevalent in today's day and age.
Businesses understand the importance of making their products and services available for view directly from their smartphone. Consumers use the Internet to search and shop for practically everything, so why not also use it to find a trusted window and door dealer near you!?
With a long list of windows, doors and manufacturers to choose from, shopping for these installations is challenging. Don't leave your window and door dealer selection up to the navigation app; find quality dealers near you with the help of our dealer locator tool!
Here's how to find a trusted EAS dealer who can guide your shopping process and help you find the best windows and doors to meet your home and lifestyle needs.
6 Steps To Find St. Pete Window Dealers Close to You
We designed a tool to show you all EAS window and door dealers that are within your specified search radius. Follow these six steps to find your nearest St. Pete window and door dealer.
Open your search engine of choice
Type your zip code in the appropriate field
Select your desired search radius mileage
Click Search
Scroll and browse the listings provided
Start Your Search For St. Pete Window Dealers
Eastern Architectural Systems provides a complete line of custom-made windows & doors: aluminum and vinyl, impact and insulated impact. Tested for strength and integrity, and built with style in mind, our windows and doors exceed the requirements and challenges of today's discerning buyer.
EAS is a manufacturer of Earthwise windows and doors, and all Earthwise products are Made in USA Certified ®. We realize that window and door shopping is a common challenge for homeowners, which is why we've created our dealer locator tool to map out local, trusted, EAS window and door dealers near you. Start your search for St. Pete window dealers closest to you by clicking the button below.