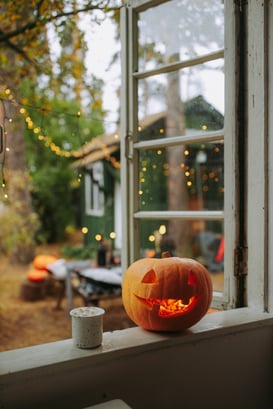 Fall welcomes several highly anticipated seasonal changes, such as cool, crisp air, pumpkin flavors, and spicy aromas. It also brings several design opportunities where Floridians can create more fall festive spaces in their homes.
Aside from swapping out the table clothes and decor, you may also find yourself wanting to spice up your windows and patio doors. And with the right fall glass treatments, you can do just that.
However, there are a few pro tips to keep in mind like making sure that they complement the architectural design of your home. Also, when you are seasonally updating spaces, try to focus on the textures and color palettes of your selections.
3 Fall Glass Treatments for Your Patio Doors
When dressing up your patio doors to be more fall festive, keep in mind that they do tend to occupy a substantial portion of your wall which can make finding the right fall glass treatments a little challenging.
Here are three popular fall glass treatment styles that you should consider for your sliding patio doors.
#1: Natural or Woven Shades
To keep things neutral and capture the excitement of a hayride through a pumpkin patch, natural or woven shades are a perfect glass treatment for your patio door. They are the perfect natural drapery for the fall season. And they also tend to be versatile for decorating year round.
#2: Sliding Panels
Do you prefer a more contemporary interior design style? If so, sliding panels are a great fall glass treatment for your patio door. With such ease of use sliding along their track, you can let the perfect amount of natural illumination and breeze in to enjoy the cool, crisp fall air.
You can even play with the panel fabric colors and choose a few shades of the same color or try one fall themed panel pattern paired with one solid neutral panel. The possibilities are truly endless.
#3: Bare Glass Treatments
Bare glass patio doors that showcase your outdoor fall decorations and natural beauty is simplicity at its finest. Consider a fall glass treatment that extends the energy savings, natural illumination and your consistent comfort year-round for your patio doors with either a low-e coating or tint.
Find The Right Fall Glass Treatment for Your Patio Doors
Finding the right fall glass treatment for your patio doors can be challenging because there are so many options to choose from.
Click the button below to download our shopping guide and learn which glass treatment, framing solution, and patio door style would best compliment your home.