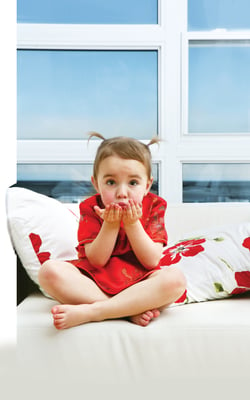 Whether you're building your new forever home or remodeling your current home, impact windows and doors are a must for any energy efficient dwelling.
You've shopped around for the perfect impact windows and doors to complement your home, but you realize you want additional efficiency.
Simplistic Energy Efficiency
Some people prefer to start off with a simple tint or add a low-E glass coating to their impact windows and doors for extra efficiency.
When you consider purchasing your next set of impact windows and doors for maximum efficiency, you can choose between one of the following two options— tinted glass or low-E glass.
Tinted Glass
A simple way to reduce energy costs in your home is to tint your glass windows and doors.
Tinting your glass windows and doors is a great first step to enhancing energy efficiency because it helps to reduce heat intrusion from filtering through your windows and doors and entering your home.
If you prefer your windows to have more protection than solar radiation absorption and reduced heat, then you may want to use low-E glass coatings instead.
Low-E Glass
Low-E glass coatings are the next step up from tinted windows and doors. The coating is applied to the internal glass to separate both heat and light energy.
Tinted windows and doors help reduce the amount of heat and light transfer, while low-E glass coatings reflect the heat back to the source allowing the short wave light to pass through for natural illumination.
Below are a couple different types of low-e glass coatings you can choose from.
Softcoat Low-E Glass Coating
Softcoat low-E glass coatings have more energy efficient properties since they have three silver coatings to provide the best energy values in the marketplace.
Hardcoat Low-E Glass Coating
Hardcoat low-E glass coatings do not have the same energy efficient properties as softcoat since they generally have only one silver coating. There are, however, some hardcoat low-E glass coatings that have two silver coats instead of just one.
Unlike tinted glass, you won't have to sacrifice natural light in your home to accommodate energy efficient installations; rather, you can enjoy natural light without harmful UV rays.
Which one will you choose?
There are a variety of ways you can create an energy efficient home. One way to help reduce your energy costs and increase your home's energy efficiency is by installing impact windows and doors.
You can maximize the efficiency of your window and door installations through a variety of ways including tinting them or having a low-E coating applied to them. However, you shouldn't have both tint and low-E glass coating applied because the combination of the two will alter the color of the glass.
You can even go a step further by incorporating an extra pane of glass into your windows and doors, which you can find in any of our insulated glass systems.
The choice is yours-- which window and door energy efficient enhancement will you choose? Leave us a comment below or tweet us at @easternarchsys and tell us which one you'd choose-- tinted or low-E glass.