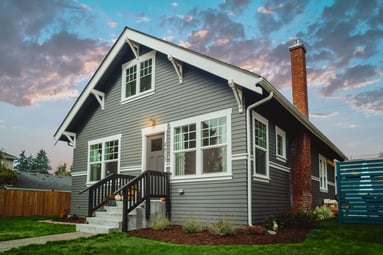 Did you know you can save money while minimizing your energy waste just by using certain materials to build or remodel your home?
The U.S. Green Building Council (USGBC) generates sustainable practices, tools and guidelines that enhance personal and environmental health.
According to USGBC.gov,
"Our mission is to transform the way buildings and communities are designed, built and operated, enabling an environmentally and socially responsible, healthy, and prosperous environment that improves the quality of life.

Through our community network, continuous collaboration with industry experts, market research publications and LEED professional credentials, our global staff is working every day to help advance spaces that are brighter and healthier for us to live, work and play in."
Understanding LEED
Leadership in Energy and Environmental Design (LEED) is a building certification program under the USGBC.
LEED building design is a detailed framework and the most widely used rating system for commercial and residential building projects to create sustainable, healthy, and efficient buildings.
3 USGBC Areas for an Energy Efficient Green Home
In contrast to a standard home, LEED homes are beneficial for homeowners and the environment because they produce less waste, use less energy, water and natural resources, and are built with less harmful products and installations.
"According to the National Association of Home Builders, single-family green residential construction has grown dramatically, from 2 percent in 2005 to 23 percent in 2013." - Green Homes
Going green impacts more than just the environment. It enhances several areas of your life, including your health and savings. Below, we outline each of the areas that are impacted.
#1 Your Health
You benefit from living in a LEED home because they are built using non-toxic materials that naturally and mechanically filter outdoor air better, improving the quality of the air you breathe.
#2 Your Savings
Buying a LEED home helps you save money! The average annual residential energy spend is $2,150.00. However, with a LEED-certified home, you can save between 30-60% on your energy spend.
There are also homeowner's insurance and mortgage companies that offer policy and loan discounts and savings for green home coverage. Plus, you can earn local, state and federal tax breaks for building a LEED-certified home or updating your home with green, energy efficient installations.
#3 The Environment
Most LEED-certified homes use sustainable, recycled building materials from insulation to flooring. They also have water-conserving plumbing systems to reduce water waste.
Your USGBC Green Home Guide for Energy Efficiency
There are two types of LEED homes -- single and multi-family. Both provide several benefits to residents and owners. Click here to learn how to turn your dream home into a green home and get more bang for your buck!
If you're looking for ways to improve your energy efficiency, click the button below to find out how the EPA regulates your windows and doors and how they can help you save energy and money!