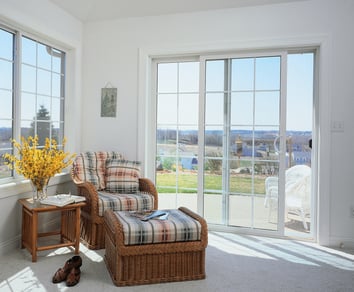 Getting hired to tackle home remodels, whether you're a window and door dealer, designer, contractor or builder is no easy feat.
It's a collaborative process that ensures the homeowners get the remodel that suits their design tastes, meets their lifestyle needs, and complies with building codes for their area.
Home and building remodels are not as glamorous as seen on TV. There's a lot of resources and patience involved.
3 Features to Consider for a Home Remodel
Whichever professional role you play, there are a few key installation features you'll want to take into consideration; your customers will appreciate you doing so.
#1 Energy Efficiency
Energy efficient installations help to prevent seasonal temperature fluctuations from affecting the homeowners' comfort inside their home.
For a door to receive an energy star rating from the government, it must have multiple panes, contain specific, energy efficient materials, such as wood cladding, polyurethane foam, or fiberglass, and have weather stripping to keep the door tightly sealed to the frame.
Below are a few additional resources to see how energy efficient features play an integral role in your building projects.
#2 Florida Product Approval
Each state warrants different product specifications and regulatory requirements for several reasons, including safety and quality assurance. That's where the Florida Product Approval (FL #) process comes into play.
The FL # is based on several measurements that evaluate the products compliance with a set of standards.
Below are a few additional resources to see how Florida Product Approval plays an integral role in building installation choices.
#3 High Velocity Hurricane Zone (HVHZ)
There are some certain Florida counties that have additional building code requirements for the purpose of reinforcing building structures in more hurricane prone and vulnerable areas of the state, such as Broward, Miami-Dade, and certain coastal areas of some other Palm Beach counties.
Below are a few additional resources to see how HVHZ building codes play an integral role in which installations to use.
Functional & Stylish Doors for Your Home Remodel
The perfect door for your next home remodel will encompass a combination of energy efficiency, HVHZ certification (in certain areas), and Florida Product Approval. When selecting the perfect door for your home remodels, you should also consider maintenance, ease of use, and how much natural illumination is desired.
Sliding glass doors are sought after for their ease of use and large amount natural illumination, while French doors add a unique aesthetic and home value boost. It all depends on your customer's lifestyle and design preferences.
EAS doors are highly customizable for lighting, maintenance and use! Browse our doors today to find the ones that check all of your customer's boxes!